An Important Notes:
Connect To Israel tours seek to bless Israel and the Jewish people. We do not use Palistinian bus companies or hotels in East Jerusalem. We do not tour in Palistinian controlled areas or support the Palistinian economy.
HIGHLIGHTS
Walk through the ruins of Shiloh where the Tabernacle stood for 369 years
Talk with the son of the first Jew to purchase a home within the Old City walls after the 1967 war
Shabbat dinner and Torah study in Jerusalem
Explore ancient, modern and future Jerusalem in a way you will never forget
Breathtaking views on the Golan and Galilee. Mikvah in the Jordan, if you desire.
Hike to the springs of Ein Gedi (where David hid from Saul) and view the waterfalls and wildlife
Wine tastings in the Shomron, The wonders of Masada. Swim in the Dead Sea. So much more!
DAY 1: FLIGHT TO ISRAEL
Our journey of connecting to the Land of Israel begins with flights from your home airports.  You will receive information prior to your departure with all the details you'll need for both the flight and your Connect to Israel experience. Since we have people joining us from all over the US, Canada and other countries we will meet in Israel. We will be with you every step of the way to help with booking flights, passports and any other needs you may have.
DAY 2: ARIEL AND ESHEL HASHOMRON HOTEL
Mike and Hanoch will be waiting to greet you at Ben Gurion Airport upon your arrival in Israel.  We will meet with the rest of our group, arriving from all over the world and leave together on our bus.  To our left will be the Mediterranean Sea and to our right the Hills of Samaria as we head up to Ariel, the 'capital' of Samaria, where we'll be spending our first two nights at the unique and beautiful Eshel Hashomron Hotel.  After checking in and having dinner, we'll experience the Biblical Gardens and the incredible full-scale model of the Mishkan (Tabernacle) on site.
DAY 3: NORTHERN SAMARIA, ELON MOREH, MOUNT OF BLESSING, ITAMAR
Today we'll begin seeing the sites of Northern Samaria including Elon Moreh and view the site of the promise that Abraham received.  Lunch will be a delicious meal coupled with a wine tasting at the Har Bracha (Mountain of Blessing) Visitor's Center.  From there, we'll go on to the town of Itamar where we will meet with former mayor, Moshe Goldsmith and his wife Leah. Itamar is the largest land mass city in Samaria. There will be many amazing surprises on this day. Prepare to leave a piece of you here.
DAY 4: SAMARIA, SHILOH, MA'ALE LEVONA AND JERUSALEM
We'll have another wine tasting at an amazing location in Samaria.  Shiloh, where the Mishkan (Tabernacle) stood for 369 years, will be our next stop.  We will visit the Shiloh Children's home led by its founder, David Rubin.  From there, we'll go to the actual ruins of ancient Shiloh, to stand in the place of history.  We'll have a picnic lunch (compliments of Mike and Hanoch), and then we'll leave for Ma'ale Levona.  From there, we'll take the road up to Jerusalem, the eternal undivided capital of the people of Israel.  We'll be spending the next three nights in Jerusalem, soaking in as much as we possibly can.  Of course, there will be an after-dinner walk to Ben Yehuda street for those in need of "Retail Therapy."
DAY 5: WESTERN WALL (KOTEL) TUNNELS. DAVIDSON CENTER AND THE OLD CITY
Our first full day in Jerusalem will begin with an inspiring tour of the Kotel (Western Wall) Tunnels.  From there, we'll visit the Davidson Center and the excavations of the Southern steps of the Temple Mount.  There will be time for personal prayer at the Western Wall, of course.  After lunch, we'll visit with the son of the man who was the first one to buy a home in the restored Jewish Quarter after the June 1967 war.  Our dear friends, Moshe & Dov Kempinski of the Shorashim Shop, will talk to us about a range of topics – all fascinating!  Before heading back to our hotel for dinner, we'll take some time for a bit of "retail therapy," also known as shopping.  After dinner, it's back to Ben Yehuda street for a true Israeli cultural experience.  A bit more retail therapy might be needed too.
DAY 6: TEMPLE INSTITUTE, BURNT HOUSE. THE OLD CITY AND SHABBAT PREPARATIONS This will be a short day as Israel prepares for Shabbat.  We will begin with a special tour of the Temple Institute and the Burnt House. We will spend more time in the Old City visiting the Broad Wall and the Cardo.  We will return to the hotel early to prepare for Shabbat and our special group Shabbat dinner.  This is always a very special occasion because we will have the opportunity to fellowship together.  There is nothing like the start of Shabbat in Jerusalem….
DAY 7: SHABBAT IN JERUSALEM
Shabbat – a day of rest and a chance to renew our bodies and our spirits.  After a leisurely breakfast, we will gather for our Torah study.  Afterwards, the options are to walk and experience the peace of Shabbat in Jerusalem or to rest some more.  Shabbat afternoons are always a meaningfull time for all of our groups.
DAY 8: MT. ARBEL, GALILEE, CAPERNAUM, GINOSAR AND TIBERIUS
We head north today.  We'll drive to the Galilee and enjoy a breathtaking view of the Kineret – the Sea of Galilee, from the Arbel Cliffs. From there we'll visit the almost 1,700 year old synagogue and the ancient boat at Ginossar.  For those who would like, we have the option at the end of the day for a Mikvah (immersion) in the Jordan River.  This will be the first of two nights in Teverya – Tiberias.
DAY 10: JORDAN VALLEY, QUMRAN, EIN GEDI AND BIBLICAL TAMAR PARK
Now it's time to head south – driving through the Jordan Valley.  We'll tour Qumran, where the Dead Sea Scrolls were found.  From there, we'll go to the incredible oasis of EIn Gedi, where David hid from King Saul.  We'll be hiking the hills and enjoying the waterfalls – in the middle of the desert!  You'll see amazing wildlife – and will want to take lots of pictures.  From there, we'll drive to our rustic home for the last two nights – the archaeological site of Biblical Tamar Park.
DAY 11: TAMAR, MASADA AND DEAD SEA
After our tour of fascinating Tamar, we head up to Masada and experience its compelling narrative.  We may also be able to visit one of the possible locations of ancient Biblical Sodom.  Then – to a relaxing swim in the Dead Sea, one of the world's great wonders.  Our last night in Tamar will be a time for sharing and processing our incredible experiences.
DAY 12: Be'er Sheva, Jerusalem and......?
We head up to Jerusalem via Be'er Sheva.  From there, we head back into the city to experience the vibrancy of life in modern Jerusalem including a stop at the famous Machane Yehuda market.  There will be time for lunch, last minute shopping and the experience of the outdoor market. Who knows, there may be a few more surprises in store? From there, we head to the airport to say our goodbyes as people leave Israel.
DAY 13: BACK TO OUR TEMPORARY HOMES
Time to get over jet lag and begin to plan for your next trip to Israel. Connect To Israel 2.o, "Next Steps Toward Home" is being planned now.
The above itinerary is a guideline. We make every effort to not only experience the places and people listed, but to give much more. Due to scheduling, weather and security changes may have to be made.
For those who would like to arrive in Israel earier or stay later, we will be glad to work with you. Any transportaion, lodging or other incured expenses are your responsibility.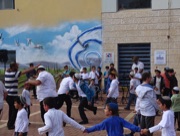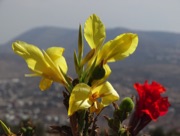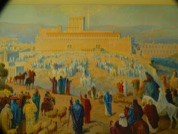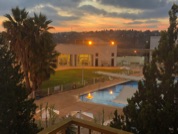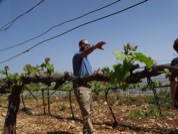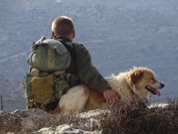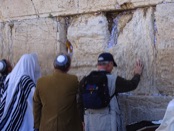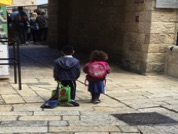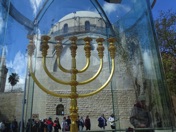 DAY 9: GOLAN HEIGHTS, PEACE VISTA, GAMLA, MT. BENTAL, TEL DAN
We'll begin to tie the past, present and future together as we drive around the Southern shore of the Sea of Galilee and head toward the Golan Heights.  More amazing views await us as we go to the 'Peace Vista' and have the entire Galilee laid out before our eyes.  We will go to Gamla, probably one of Israel's most significant but underrated historical sites.  It will enable us to have some perspective for our visit to Masada, later in our trip. From there we go to the overlook at Mount Bental and on to Tel Dan, where we confront the sin of Jeroboam and its meaning for today.